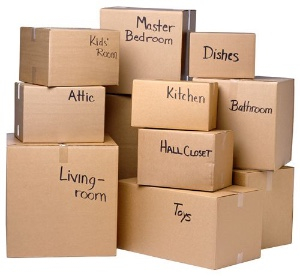 Moving can be one of the most bitter-sweet times in your life. On one hand, you are beginning a new chapter and starting fresh in a new home filled with opportunities to make new memories. On the other hand, you are leaving a space behind where so many memories were made. And oh yeah... you have to pack everything! Yikes!

Have no fear.
When it comes time to pack up for your new adventure, follow these 10 tips to make the process smoother:
USE THE RIGHT SIZE BOXES
Put heavy items like books, candles, and knickknacks in small boxes; light items, like linens and curtains, in bigger ones. (Large boxes packed with heavy items are a common complaint of professional movers. They not only make the job harder but also have a better chance of breaking.)
Not everything needs to go in a box. Throw pillows, bags, shoes, etc. can all be but in other bags or trash bags.
Consider the size moving truck you will have and plan accordingly by envisioning how the boxes will stack together and on top of one another.
DON'T LEAVE EMPTY SPACES IN THE BOXES
The best way to ensure that the items in your box stay secured during the move and along any bumpy road is to fill it as much as possible. Hint: that doesn't necessarily mean with your actual stuff. You can use small towels or blankets to stuff in-between items where there are gaps to keep the items from moving around during transportation.
SEPARATE ITEMS BASED ON ROOM
One of the best ways to ensure an efficient move is by packing your house based on room. It sounds obvious, but not everyone thinks to do it. By breaking apart the packing process by room, it not only makes the whole task seem less daunting, but you will be left feeling more satisfied knowing all your items can be easily unpacked.
Furthermore, pack each room by section. Have a TV stand or fireplace with decorative items or equipment? Try and keep these items together so that you don't have to go searching for them later. This way you can unload each box to the new given area with no question that the items inside will belong in that very spot.
MIX HEAVY AND LIGHT ITEMS
Get creative when packing up your rooms. You want to be smart about the weight of each box you are packing. Although it can be tempting to keep every single pot and pan together, that weight can add up quickly! Consider other items in that section of the kitchen. Are there tupperware containers near by? Plastic cups? Place the heavier items in the bottom of the box and fill the space above with those lighter items. You'll thank yourself later when you start unloading!
USE ZIP TIES FOR YOUR HANGING CLOTHES
Packing and unpacking your closet is undoubtedly one of the least favorable parts of moving. But not anymore! No longer do you need to worry about removing clothes from your hangers to secure them in boxes, or trying to keep them on the hangers while transporting them to the car or truck. One of my FAVORITE moving tricks for hanging clothes is using zip ties. All you have to do is zip tie the hangers together in groups and voila! You can now easily carry groups of clothes that are secured on the hangers. For further protection, place groups of hangers in trash bags with the handles sticking out of the top and carry them that way.
BUNDLE BREAKABLES
As you pack your dishes, put packing paper around each one, then wrap bundles of five or six together with more paper. Pack dishes on their sides, never flat. And use plenty of bunched-up paper as padding above and below. Cups and bowls can be placed inside one another, with paper in between, and wrapped three or four in a bundle. Pack them all in dish-barrel boxes.
The same idea goes for the rest of your breakables. The best you can, try and package breakables together so that you can properly position these items in the moving truck. Tip: You can use left over wrapping paper to place in-between and around the breakables.
LABEL, LABEL, LABEL
Labeling is the key to the packing process and the glue that will keep all the hard work in place. First, make sure as you are packing up each room that the name of the room is written on the box (i.e. kitchen, living room, bedroom, etc.) Second, specify the contents of the box (i.e. kitchen: pots + pans, tupperware, etc) Third, label within the box if necessary. I have found that keeping "extra" pieces of decor such as the nails to hang them, in the same box is extremely helpful. Place the nails in a ziplock bag, write on the bag what piece it goes to, and then either tape it to that item or throw it in the box with the item.
TAPE BOXES WELL
Use a couple of pieces of tape to close the bottom and top seams, then use one of the movers' techniques―making a couple of wraps all the way around the box's top and bottom edges, where stress is concentrated. The last thing you need after all your effort is complete it to have a box fall apart.
USE CLOTHES AND BLANKETS AS PADDING
There's always a great need for soft stuff during a move -- to tuck into a box to keep it snug, or to provide a buffer between two pieces of furniture in the truck. Clothing that doesn't fit into suitcases, boxes, or dressers can do the trick. So can blankets, stuffed animal collections, pillows, and other linens. Stuff them into sturdy garbage bags and you have instant padding.
You knew those old sheets would come in handy some day, and that day has arrived! Fitted sheets are a great way to protect mattresses (put on two; one on the front and one on the back) and other furniture. Wrap them around upholstered chairs or other small furnishings. They're easy to wash (or toss) when you get to your new home.
CONSIDER WHAT ITEMS YOU NEED WITH YOU
Reserve a box for those items that you know you'll need the minute you arrive. A flashlight, the coffeemaker and some coffee, tools you'll need for assembly, the telephone, paper products, and so on. Label it accordingly and make sure it's last on and first off your moving truck.